Period of Sales: Nov 17th(Fri) ~ Dec 24th 2023(Sun)
Period of Stay: Dec 22nd(Fri) ~ Dec 25th 2023(Mon)  
---
With LEGOLAND® Santa Sleepover
you can get a surprise visit from Santa!
Make this the Best,
Unforgettable Christmas for your children!
---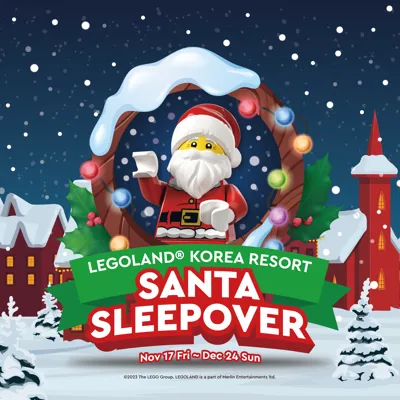 Santa Sleepover
---
🦌 Combine the magic of LEGOLAND® Park,
which has transformed into a Santa's Village this winter,
with a surprise meeting with Santa who will visit your room!
After falling asleep with sweet dreams in your LEGO® themed room,
enjoy a free breakfast buffet featuring Christmas seasonal menus on the next day!
Are you ready to make your kids' dreams come true this winter?
Book now!
✔ Period of Sales: Nov 17th(Fri) ~ Dec 24th 2023(Sun)
✔ Period of Stay: Dec 22nd(Fri) ~ Dec 25th 2023(Mon)  
---
🎁 Package Benefit: 
Free breakfast buffet for all registered room guests
(Max 5 people: 2 adults,3 children per room)
Santa's visit with a free LEGO® gift(1 random gift per 1 child between ages 2-12)
and a gift prepared by the guardian/parents
LEGOLAND® Hotel exclusive Christmas card(1 card per 1 child) 
🎅 Important Notice about Sanat's Visit:
Please leave your preferred time for Santa's visit when booking.
The confirmed visit time will be notified upon check-in.
Depending on Santa's visit schedule, his visit time may change to an earlier or later time slot.
If you do not leave your preferred time for Santa's visit upon booking your room, you will be notified of the remaining visit schedule at check-in.
Santa's visit times(Every 20 min.):
- Check in day: 6PM, 6:20PM, 6:40PM, 7PM, 7:20PM, 7:40PM, 8PM, 8:20PM, 8:40PM, 9PM, 9:20PM, 9:40PM
- Day after: 9AM, 9:20AM, 9:40AM, 10AM, 10:20AM, 10:40AM
Guests staying on December 25th must book from the evening time slots(6PM~9:40PM).
If guardians/parents have separate presents they wish to give, please leave it with our staff at the front desk when checking in. Santa will give to your child/children during his visit.
Customers who have booked other hotel packages can also reserve Santa's visit with an additional payment of KRW 70,000 per child(Aged between 2-12).
Santa's visit reservation is first come first serve basis and may close early if fully booked(Limited to 40-50 rooms per day).
LEGO® gifts carefully selected by LEGOLAND® hotel will be delivered by Santa with warm messages for each child staying with this package(or service).
When making a reservation, please indicate the number of children aged 2 to 12. Prices are based on the number of children. You will be considered a gift reserved guest after the payment for the number of child/children has been completed.
If you would like to book Santa's visit and gift for toddlers between 0 and 2 years of age, please indicate as 2 to 12 years of age and pay the additional child fee.
The LEGO® gift from Santa is a random LEGO product, where the regular price is at least KRW 100,000.
The gift cannot be exchanged for another product.
🎄 Winter Exclusive Events at LEGOLAND® Hotel:
Santa's MEET AND GREET
'Finding Santa Claus' Show (2F, Adventure Play)
Christmas season educational contents program (3F, Kids Ground, reservations required)
Christmas Themed LEGO Building Contest
Plus more activities prepared for hotel guests! Please check the event schedules upon check in!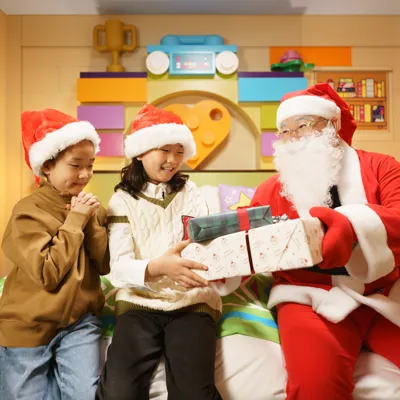 |Basic Benefits|
⭐ Overnight stay at a fully LEGO® themed room🍽️ Breakfast for all registered room guests (*Check the maximum occupancy allowed per room type)
🎁 Welcome Treasure Hunt with a surprise gift
🛏️ King bed in the adult sleeping area
🛏️ Kids' own sleeping area with bunk bed, pull out trundle bed
💡 LEGO bricks to build with during your stay
🖥️ High-definition flat panel TV in each kid's and adult's sleeping area
❄️ Air conditioning / Mini-fridge /Wi-Fi access/Hairdryer/Complimentary toiletries/In-room safe
🚩 Free parking area for Hotel guests
🚩 Valet Service for Hotel guests(First Come First Use, KRW 20,000 per car)
✨ All themed rooms are also available as accessible rooms. 
✨ Book for an "Accessible" room on website if you wish to use an accessible rooms.
|Exclusive Activities for Hotel Guests| 
🧡 'LEGO® Creative Workshop', offers interactive sessions using LEGO® Education series (sets only for institutions, not for sale) for students of all primary ages. (2F, reservations required)
💛 'Adventure Play' – a huge playground for kids, with LEGO® hands on play areas
💚 'Kids Ground' on the 3rd floor offers various seasonal interactive programs for kids (reservations required)
💙 Daily entertainment, seasonal shows and entertainments offered for the whole family all year round
Do not MISS Winter LEGOLAND®