Period of Sales : Aug. 30th (Wed.) ~ Nov. 19th (Sun.)
Period of Stay : Sept. 22nd (Fri.) ~ Nov. 19th (Sun.)
---
Become a Candy Hunter this fall
and embark on an exciting adventure at LEGOLAND® Park and Hotel!  
---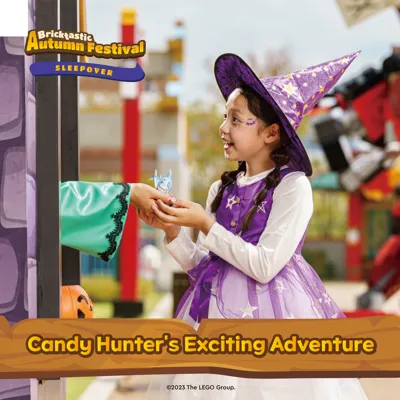 Bricktastic Autumn Sleepover
⭐ An exciting adventure to find hidden candy stations and candy houses at LEGOLAND® hotel and Park! Let's start the candy hunt and drink hunt with the cute candy bucket included in the Bricktastic Sleepover package! Decorate the refill cup with the limited edition sticker included in the package! Grab a fall season-limited edition badge, sticker, bucket,(including 1 free sweet pumpkin sikhye(sweet rice drink) and find 3 candy stations in the hotel. Say "Brick-Or-Treat" to get your treats! Don't miss out on the fall seasonal programs exclusively offered only to the hotel guests at the hotel Creative Workshop(2F) and Kids Ground(3F)! 
📌 Sales Period: Aug. 30th(Wed) ~ Nov. 19th(Sun)  
📌 Stay Period: Sept. 22nd(Fri) ~ Nov. 19th(Sun)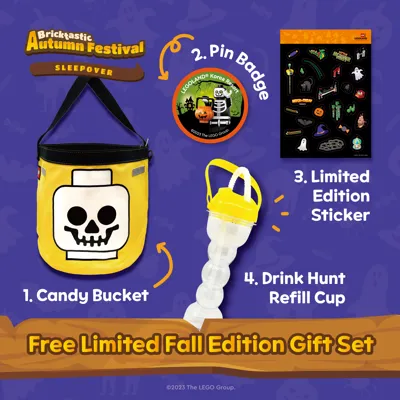 📢 Package Gift: 
1) Candy Bucket: Cute bucket to store your treats from 3 candy stations at LEGOLAND® hotel 
2) Limited Fall Edition Badge: Limited fall edition badge(not for sale) only for Bricktastic Autumn Sleepover guests
3) Limited Fall Edition Stickers: Decorate your refill bottles with this limited edition sticker!
4) Drink Hunt Refill Cup: After decorating with the included sticker, bring it to Hotel Skyline Lounge(2F) to receive 1 free sweet pumpkin sikhye(sweet rice drink)! 
🧡 Additional Benefit Only for Hotel Guests
- Brick-chu Dinner:  With advanced payment during check-in, you can enjoy Bricks Family Restaurant dinner buffet for KRW 110,000(tax inclusive) per family(max. 2 adults with up to 3 children. Multiple discounts do not apply, such as Annual Pass holder discounts) 
- Exclusive Seasonal Sessions - Creative Workshop(2F): Join us for a LEGO® pumpkin making session at our hotel Creative Workshop!(*Reservations required) 
- Kids Ground Fall Programs (3F): Kids Ground, located on the hotel 3rd floor offers new programs for fall, including fall-concept glasses, handheld mirrors, lanterns, and bracelet making classes.(*Reservations required)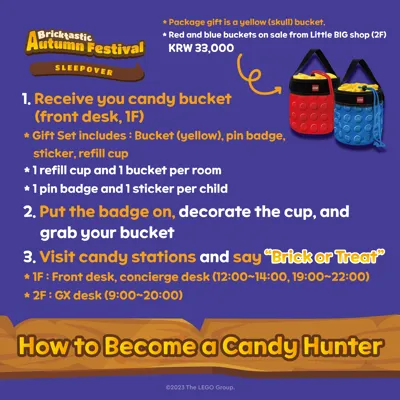 ⭐ How to become a candy hunter!  
The magic spell to get your free treats at LEGOLAND® Korea Resort, "Brick-Or-Treat!" Are you ready to visit candy stations and say "Brick-or-Treat"? Then let's start the candy hunt! 
---
🎁 Receive the package gift(candy bucket, drink hunt refill bottle, limited edition pin badge, limited edition sticker) from the hotel front desk(1F). 
Decorate your drink hunt refillable bottle with the limited edition stickers(both included in the gift pack). Head to the Skyline Lounge(Hotel, 2F)!

Get your free sweet pumpkin rice drink(first drink free). Visit 3 candy stations* and say "Brick Or Treat!" To get your treats!(*Located at the front desk, concierge, and program registration desk on the second floor)

After enjoying hotel Creative Workshop(2F) and Kids Ground(3F) fall programs, head to the Park

Visit 3 monster candy houses in the Park(Pirate Shores, LEGO® NINJAGO® World, LEGO® CITY), shout "Brick or Treat" and get more treats! 
👆 Terms and Conditions 
Candy Station Locations & Hours
- 1F Front Desk, Concierge Desk(12:00~14:00, 19:00~22:00)
- 2F Group Exercise(Registration) Desk(09:00~20:00)
Candy buckets can beseparately purchased at hotel Little BIG Shop(Blue and Red only)
All hotel guests can participate in the Candy Hunt, unlimited! 
Drink hunt is only for Bricktastic Autumn Sleepover guests
Do not peel off thebottom sticker on the refillable bottle. Bottom sticker must be on to get one free sweet pumpkin rice drink
First refill will be sweet pumpkin rice drink, then afterwards free soft drink refills available only from Skyline Lounge(Hotel, 2F)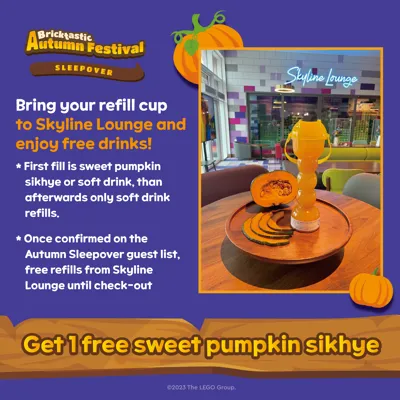 |Basic Benefits|
⭐ Overnight stay at a fully LEGO® themed room🍽️ Breakfast for all registered room guests (*Check the maximum occupancy allowed per room type)
🎁 Welcome Treasure Hunt with a surprise gift
🛏️ King bed in the adult sleeping area
🛏️ Kids' own sleeping area with bunk bed, pull out trundle bed
💡 LEGO bricks to build with during your stay
🖥️ High-definition flat panel TV in each kid's and adult's sleeping area
❄️ Air conditioning / Mini-fridge /Wi-Fi access/Hairdryer/Complimentary toiletries/In-room safe
🚩 Free parking area for Hotel guests
🚩 Valet Service for Hotel guests(First Come First Use, KRW 20,000 per car)
✨ All themed rooms are also available as accessible rooms. 
✨ Book for an "Accessible" room on website if you wish to use an accessible rooms.
|Exclusive Activities for Hotel Guests| 
🧡 'LEGO® Creative Workshop', offers interactive sessions using LEGO® Education series (sets only for institutions, not for sale) for students of all primary ages. (2F, reservations required)
💛 'Adventure Play' – a huge playground for kids, with LEGO® hands on play areas
💚 'Kids Ground' on the 3rd floor offers various seasonal interactive programs for kids (reservations required)
💙 Daily entertainment, seasonal shows and entertainments offered for the whole family all year round