Period of Promotion : 2023/1/1 ~ 2/28
Period of Stay : 2023/1/1 ~ 3/15
FREE 1 NIGHT STAY
WITH A PURCHASE OF 3 GOLD PASSES!
---
Have an AWESOME stay at our hotel in the winter
and come back to enjoy Gold Pass member benefits
from spring 2023!
---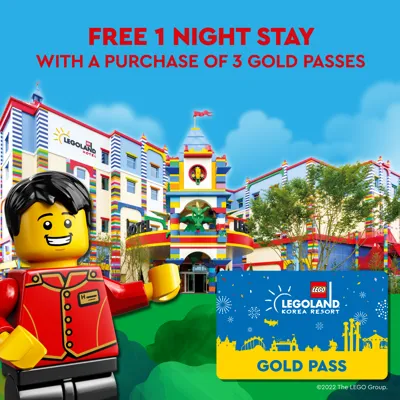 🎁 Come join us for the Annual Pass holders' event, which will be opened only to the Pass holders before the 2023 official season opening!
✔ Promotion Period: Jan. 1st, 2023 ~ Feb. 28th, 2023
✔ Hotel Stay Period*: Between Jan. 1st, 2023 ~ Mar. 15th, 2023
* Fully LEGO® themed rooms including breakfast (For up to 5 guests(Adult Max2, Child Max3), excluding LEGOLAND® Park tickets)
* 3 Gold Passes  (Valid for 1 year from pass registration date; registration period: Mar.20th ~ Mar.31st 2023)
✔ How to Book: Click the [BOOK NOW]button OR type in the PROMOTION CODE(AG3) on the boooking page. 
Promotion Code : AG3
- LEGOLAND® Park will be under seasonal maintenance during the hotel stay period for this promotion. However, LEGOLAND® hotel Creative Workshop and various activities will be available all year round. Please check our website for more details.
- Golden Short Breaks promotion benefit (1 night complimentary room) applies only for purchases made through the Hotel Reservation page.
- Complimentary room stay will not be provided for Gold Passes purchased through Annual Pass sales page. 
- Pass Code Delivery Period : 3 days prior to arrival date (Pass code will be delivered on Jan 9th, 2022 for guests arriving from Jan 1st -12th, 2022)
- Pass Registration Period : Jan. 10th, 2023 ~ Mar. 31st, 2023*
*Due to guests who wish to register and use their Gold Pass benefits earlier (even while the Park is closed), the Gold Pass registration period has changed. For guests who already have checked out, we ask for your kind understanding for this change. 
- LEGOLAND® Park 2023 Season Opening: Mar. 24th, 2023
- If passes are not registered by March 31st, 2023, passes will automatically become void, and hotel room charges will not be refunded.
- Annual Pass (AP) benefits and valid period will start as soon as the online AP profile registration is completed. Annual Passes will be valid for 1 year from the registered date, including LEGOLAND® Park's winter closure period. 
- Gold Passes can be upgraded to Platinum Passes with additional payment at LEGOLAND® ticket windows after March 24th, 2023. 
- This is a package product, where partial (room or pass) refund is not possible.
- Cancellation of this package must be requested by 4pm of 3 days before check-in date. After this time and date, this package is non-refundable.
- This is a limited promotional package, where additional discount does not apply when existing Annual Pass holders(ex.pass holders from 2022) purchase this package.
How to Book Golden Short Breaks Package
Book your room by clicking the [BOOK NOW] button OR type in the PROMOTION CODE(AG3) on the boooking page. 
- Period: Jan. 1st ~ Feb. 28th, 2023
Check your mailbox(3 days prior to the scheduled arrival date) for the guideline on how to register your Annual Pass Codes
Visit and enjoy your stay at LEGOLAND® Hotel


- Period: Jan. 1st ~ Mar. 15th, 2023

Follow the guideline to register your Annual Pass 
- Period: Jan. 10th ~ Mar. 31st, 2023
Visit and enjoy all the events held at LEGOLAND® Park before the official opening date
- Early Access: Mar. 23rd, 2023
- Official Park Opening: Mar. 24th, 2023