LEGOLAND® Korea Resort to release three types of annual passes along with introduction offer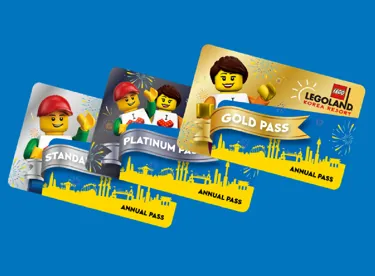 The annual passes of LEGOLAND come in 3 types - Standard, Gold, and Platinum, and are all issued as online format. It will offer price benefit in line with annual pass launch from November 8th – 30th and consumer can purchase them at KRW 109,000, KRW 159,000, and KRW 239,000 respectively for each type of pass. From December, they will be sold at KRW 119,000, KRW 169,000, and KRW 249,000 respectively in regular prices. 
The three annual passes will include basic benefits such as ▲ 1-year admission to LEGOLAND Korea during Park operation days (*during park operation days; blackout dates may apply), ▲ 10% discount on accommodation at LEGOLAND Hotel, ▲ 1 free Apple Fry, a signature dessert menu of LEGOLAND, on pass holder's birthday, and ▲ exclusive offer on special events, discounts, and benefits. 
Gold and Platinum passes additionally offer ▲ 10% discount on retail transactions in any of the LEGOLAND Korea Resort, ▲discount on stroller rental, ▲ 1 free meal for kid (with 2 paid adult meals; only during weekdays). In terms food & beverages, the discount rates may differ -- 10% discount for Gold passes and 20% discount for Platinum passes respectively. Platinum passes also do not have blackout dates which means anyone with a Platinum pass can visit LEGOLAND on any day of the year.  
Additional details on the benefits of annual passes will be revealed through the official LEGOLAND website.  
Young Pil Kim, a divisional director of LEGOLAND Korea Resort, said "We're thrilled to introduce annual passes of LEGOLAND Korea Resort", adding that "Besides this early bird promotion on annual passes, we're planning to showcase various products and events in the future, asking for all of your attention."  
Meanwhile, LEGOLAND Korea Resort is expected to be built on Jungdo of Chuncheon in Gangwon Province, where you can meet pristine nature, making it the most beautiful LEGOLAND to be built on the island for the first time. Both LEGOLAND Park in the final stage of completion and LEGOLAND Hotel which is being under construction since February this year will be showcased next year.  
More details can be found on the official website and its social media channels. 
LEGOLAND® Korea Resort Official Website: www.LEGOLAND.kr 
LEGOLAND® Korea Resort Official Social Media Channels: