Discout Period : 2023/5/28(Sun) ~ 6/11(Sun)
---
Watch Chuncheon International Mime Festival and enjoy special admission discount at LEGOLAND®! Don't miss out on the special offer prepared by LEGOLAND® for those who love culture and art!
---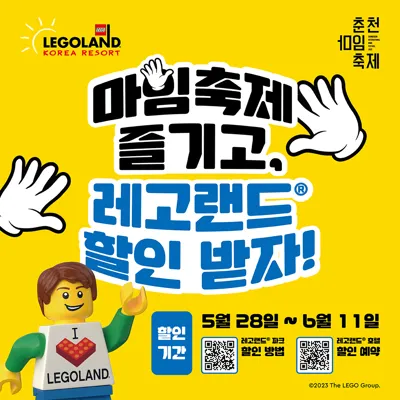 🌞 EVENT 1
20% OFF on LEGOLAND® 1 Day Ticket after watching MIME festival Show

📌 Discount Period : 2023/5/28(Sun) ~ 2023/6/11(Sun)
👀 How to Get the Discount :
① Visit LEGOLAND® Ticket Windows
② Verify one of the MIME Festival (5/28~6/4) tickets
③ Get 20% Discount on LEGOLAND® Park Admission Tickets!
* MIME Festival Show : Lee Eun Ji Company (5/28~29), Kolektiv Lapso Cirk (5/30~31), Wu Seok Hoon Comedy Show (5/31~6/1), Firework 'The Most Beautiful Moment' Show (6/2~6/3)
---
🌞 EVENT 2
30% OFF on MIME Festival (Firework 'The Most Beautiful Moment' Show) Show after visiting LEGOLAND®
📌 Discount Period(LEGOLAND® Ticket Valid Date : 2023/5/22(Mon) ~ 2023/6/3(Sat)
👀 How to Get the Discount : ① Visit & Enjoy LEGOLAND® Korea Resort ② Show LEGOLAND® Ticket QR code and Get 30% Discount on Firework 'The Most Beautiful Moment' Show
LEGOLAND® Starry Night & Fireworks Finale
Enjoy the Night View & Play on and on after the Sunset! (4/28~10/29)