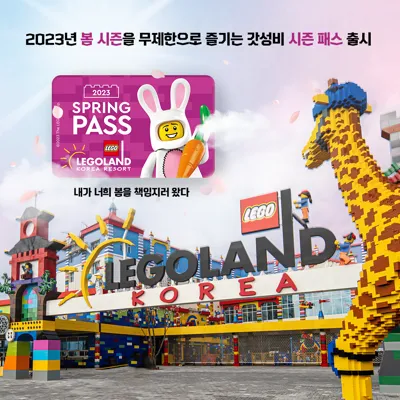 Spring Season Pass (3/24 ~ 6/11) - Sales End!
Summer Season Pass Launching Soon!
---
Enjoy Unlimited* Admission through the entire Spring Season!
Sales ends on March 23rd! (*Black Out Days Apply)
🌸 Sales Date: 2023/2/24 ~ 3/23
🌸 Valid Period: 2023/3/24 ~ 6/11(76 Days)
🌸 Black Out Date: 2023/5/5~6, 6/4(3 Days)
🌸 Book Visit Date(Required): 2023/3/10~
---
💡 Notice
- F&B, Retail, and Hotel Discounts DO NOT Apply 
- Can upgrade to a Gold or Platinum Pass by paying the difference on site, within the Season Pass valid period
- Park reservations required prior to visit (must check black out days)
- Children 12 years old or younger must be accompanied by a guardian aged 16 years old or older
- Parking Fee is not included
- Park operation is subject to change (or closure) based on natural disasters, inclement weather, safety checks, internal construction conditions, etc.