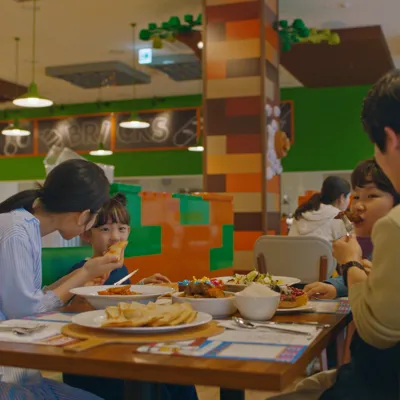 Stay at LEGOLAND® Hotel and Enjoy Breakfast Without Additional Charge!
Family Restaurant which offers great LEGOLAND® Park view, with our kid-friendly menu.
---
* This is a basic package, and all LEGOLAND® hotel packages include breakfast. 
* Maximum occupancy per room varies according to the room type. All registered guests per room can enjoy free breakfast.
- Premium, Premium Park View Room: 5 people (max. 2 adults)
- Premium Corner Room, Suite, Deluxe Suite : 6 people (max. 3 adults)
---
|Package Benefits|
⭐ Overnight stay at a fully LEGO® themed room
🍽️ Breakfast for all registered room guests (*Check the maximum occupancy allowed per room type)
🎁 Welcome Treasure Hunt with a surprise gift
🛏️ King bed in the adult sleeping area
🛏️ Kids' own sleeping area with bunk bed, pull out trundle bed
💡 LEGO bricks to build with during your stay
🖥️ High-definition flat panel TV in each kid's and adult's sleeping area
❄️ Air conditioning / Mini-fridge /Wi-Fi access/Hairdryer/Complimentary toiletries/In-room safe
🚩 Free parking area for Hotel guests
🚩 Valet Service for Hotel guests(First Come First Use, KRW 20,000 per car)
✨ All themed rooms are also available as accessible rooms. 
✨ Book for an "Accessible" room on website if you wish to use an accessible rooms.
|Exclusive Activities for Hotel Guests| 
🧡 'LEGO® Creative Workshop', offers interactive sessions using LEGO® Education series (sets only for institutions, not for sale) for students of all primary ages. (2F, reservations required)
💛 'Adventure Play' – a huge playground for kids, with LEGO® hands on play areas
💚 'Kids Ground' on the 3rd floor offers various seasonal interactive programs for kids
💙 Daily entertainment, seasonal shows and entertainments offered for the whole family all year round