Period of Promotion: 2022/12/5 ~
Period of Stay: 2022/12/19 ~
---
Make your child's birthday celebration extra special with our Bricktastic Birthday Package!

---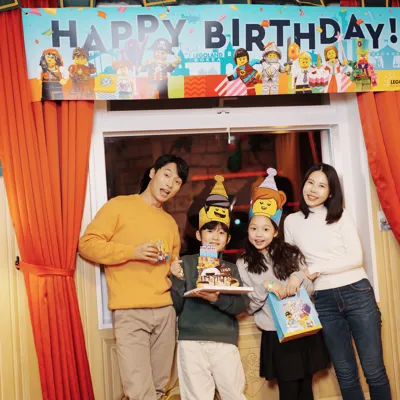 Do you want to celebrate your or your loved ones' birthday while staying at LEGOLAND® Hotel? Make happier moments by adding LEGOLAND® Birthday Decoration Option to your room!  
⭐️ Fully LEGO® themed rooms with daily breakfast at Bricks Restaurant (up to 5 staying guests; Park tickets not included)
🍩 Choco-holic Donut Cake 1EA (ready for pick up at Skyline Lounge, 2F)
🛍 Birthday Name Tag, Badge, Lanyard, Minifigure Paper Crown, Large Birthday Banner, Hand-Written Card
🎁 Additional surprise toy in Treasure Hunt (Agaband NICI Doll)
🎈 In-room Party Set (10 drinks, 3 Snacks))
✔ Selling Period: 2022/12/5 ~ 
✔ Stay Period: 2022/12/19~ 
💸 Price : ₩110,000 (VAT Included)
💡 Discount for Annual Pass Holders : ₩99,000 (VAT Included)
📌Guests who have already booked for another package can also make a reservation for the Bricktastic Birthday Prep. For details click on, "DINING" and book now!  
Terms & Condition
• Must book at least 3 days prior to hotel check-in.
• Only LEGOLAND® Hotel guests can book for LEGOLAND® Birthday Decoration Option.
• Payment link will be sent for advance payment. Reservation will be confirmed only if payment is completed in advance.
• Please reserve LEGOLAND® Birthday Decoration Option by (1)Sending email (LLKR.reservations@legoland.com) or (2)Calling Guest Experience (033-815-2300) (3) Register a form on "DINING" page. Reservation confirmation number, guest's name, birthday kid's name, contact number and email address are required.