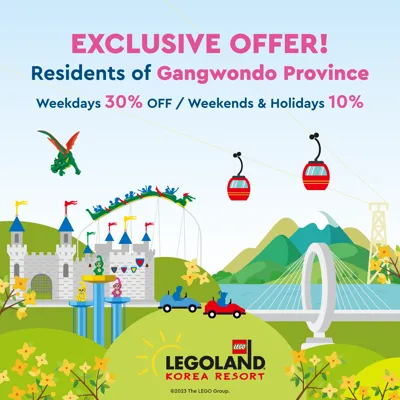 ---
Weekday 30%, Weekend 10% Discount
---
✔ Target: 
Gangwon Province Citizens
✔ Detail:
* Weekday 30%, Weekend & Holidays 10% OFF on 1 Day Admission Ticket
* In order to enter the Theme Park guests with GWP discounted tickets must provide identification as stated above. Failure to provide identification which verifies residency will result in an additional charge.
* Validation: GWP resident documents (Personal ID, Family relation certificate, Student ID, Military ID & Vacation Permit, Public Official ID)
* No further discounts or promotions and credit card discounts to be applied to the price of a GWP residents ticket.
* Refunds only available before the day of visit, transfer or resale is prohibited.
* Children under 24 months receive complimentary entrance to the theme park.
* Parking fee is not included in the Park ticket price.