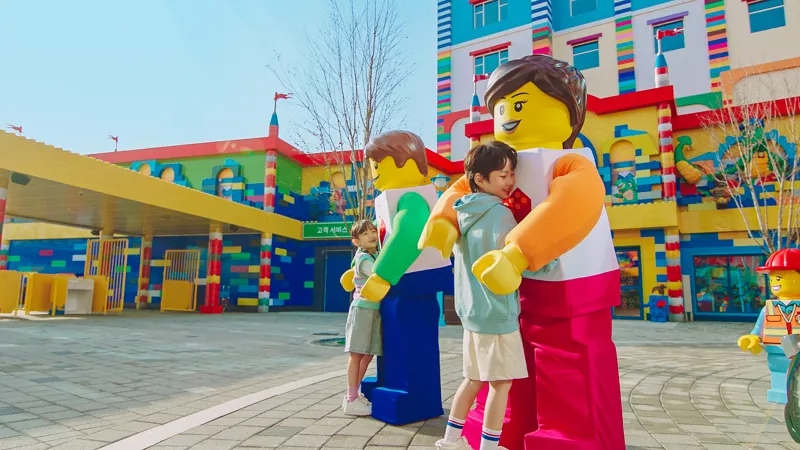 Guest Information Hub
Recreation & Entertainment
Quick Guide
✔ Program operation details and time may change without prior notice.
Recreation






Water Play 

Have fun at our Swimming Pool at LEGOLAND® Korea Hotel 2F.
Reserve Now!

- Operating Hours: Under Construction(Opening Hours to be Noticed Soon)

Pool Terrace

* Under Construction(Opening Hours to be Noticed Soon)
The outdoor place with beautiful scenery facing to Park. Various events & unique performances are held.

Creative Workshop

Are you ready to become a master builder after taking <LEGO®> advanced courses?
Get LEGO® masters' lessons here!

Creative Workshop required On-site reservation after check-in.

Please click HERE to check the detail.
Please note that use will be restricted after the check-out.

Adventure Play

Little ones' Play Ground! You can feel all 4 types of themes here!
Make sure you wear socks for the safety of your little friends!

Kids Ground

Only for in-house guests, there are various programs like making crafts and coloring. Reservation is required.
Only reserved guests can enter Kids Ground during the program hours. 
For reservation, please use the QR code in your room, for additional inquiries please visit the information desk on 2F.

Kids Ground required an On-site reservation after check-in.

Please click HERE to check the detail.

Treasure Hunt
Children and parents get into searching for clues to complete the treasure sheet activity. Once you have completed the clue sheet, you can unlock the treasure chest by keying in the numbers.
Model Build Contest

Build your imagination into reality and get a prize!
Be sure to only use the LEGO® bricks around the hotel to build your model.
Participants must register prior to the Model Build Showcase.
Only for LEGOLAND® Korea Hotel guests Check out this month's LEGO® theme and show off your assembly skills.
Participants may build models until 7 pm and submit their own LEGO® to the hotel staff.
The winner of the competition will be contacted individually.
The winner will receive a prize.

> Topics for LEGO® Builder Contest(Click)

*Any Hotel guest under 16 may participate.
*Participants may enter only one model for judging.
*The selection of each winner, and the criteria used in selecting each winner, are within the sole discretion of the LEGOLAND® Hotel judges, and the decisions of the LEGOLAND® Hotel judges are final.
*Times, location, and schedules are subject to change without notice.

Shows
&
Entertainment


 

 

 

Monster Rock Party

It's a fun dance party for vampires invited by V.I.M (Very Important Monster)! Walk, laugh and dance like a monster!

It is a special performance that only LEGOLAND® Korea Hotel guests can enjoy. 

* Performance will be replaced by "Family Speed LEGO®"

Family Speed LEGO®

Every Tuesday 7:30pm, a family speed LEGO® build contest on Hotel 2F. 

Meet & Greet

Various LEGO® friends welcome all friends who come to LEGOLAND® Hotel.

Finding Santa Claus

You are invited to a party full of exciting music and Christmas spirit!
Elves are holding a contest to find LEGOLAND® Hotel's Santa Claus. 
Come and be our Santa at LEGOLAND® Hotel!​
* The schedule will be changed or canceled depending on the performance situation.