LEGOLAND® Korea Resort will be the first LEGOALND® in Asia to showcase 'LEGO® Factory Adventure Ride'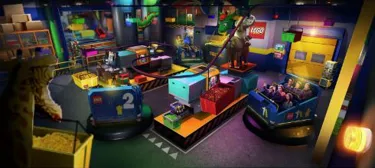 'LEGO® Factory Adventure Ride' features large-scale LEGO® Factory which makes passengers feel like as if they are transformed actual small-sized LEGO® Minifigure. Once passengers get in the ride, the time and place of adventure will be opened. Along with 'Professor Brick', the guests will vividly experience the process how LEGO® bricks are created, with meeting a variety of LEGO® Minifigures. The ride is anticipated to stimulate imaginations of both kids and adults. 
LEGOLAND® Korea Resort has completed the installation and test driving of 10 rides except LEGO® Factory Adventure Ride, for checking safety and gearing up for opening. 
Meanwhile, LEGOLAND® Korea Resort is the first LEGOLAND® to be built on the island, being expected to be "the most beautiful LEGOLAND® in the world." Set to open in the first half of 2022 at Jungdo, Chuncheon City, Gangwon Province, it is currently under construction reaching a completion rate of over 70%.   
More details can be found on LEGOLAND® Korea Resort's official website and social media channels. 
Page Break 
LEGOLAND® Korea Resort Official Website: www.LEGOLAND.kr 
LEGOLAND® Korea Resort Official Social Media: