Join us for family fun at LEGOLAND®!
The best destination for your family picnic this Autumn! 
Sep 22nd(Fri) - Nov 20th(Mon), 2023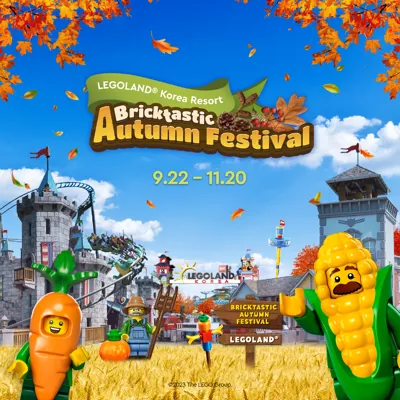 Brick or Treat, The LEGOLAND®'s Magic Spell!
Welcome to Bricktastic Autumn Festival at LEGOLAND®!
Check out seasonal shows and events! You can even win LEGO® gifts! 
That's not all! Monster Street will open for our little friends at LEGO® Castle! Come to our awesome LEGOLAND® Monster Dance Party and 4D Movie, the Great Monster Chase, only available during the fall season! 
And of course remember to say the magic spell, "Brick or Treat"! Get your treats and seasonal limited pin badges at monster candy houses! 
The fun is not over until you stay at our hotel Bricktastic Autumn Sleepover! Get a free limited edition candy bucket, hotel guest exclusive pin badges, stickers, and refillable bottle! Plus, a free sweet pumpkin rice drink at Skyline Lounge!
See you at Bricktastic Autumn Festival, an amazing fall seasonal event prepared for the entire family at LEGOLAND®!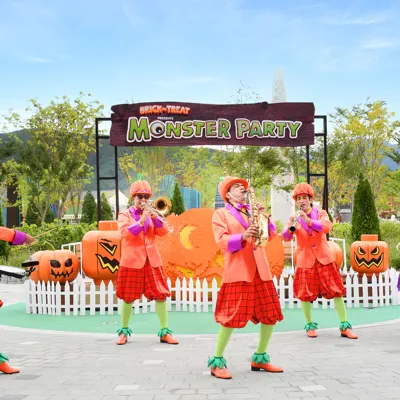 BRICK OR TREAT!
See you at our Monster Street!
Check out our special autumn seasonal attactions!
LEGO® CASTLE – Monster Street 
V.I.M(Very Important Monsters) Dance Party
Today's Monster Star  
Brick-or-TreatCandy Houses
Autumn LEGO® Build Contest 
LEGOLAND®Brass Band
LEGOLAND® Magician
🎁 2023 Limited Seasonal Gifts
1) Free reusable bags (while supplies last)
2) Collect 3 stamps from the candy houses and get a limited edition pin badge!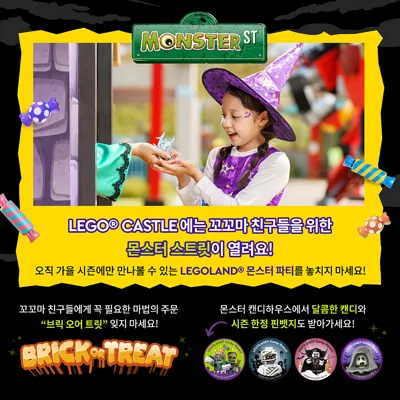 Monster Candy Houses (Park)
TRICK OR TREAT? NO!
It's BRICK-OR-TREAT at LEGOLAND®!
🍭 Candy House Locations: 
LEGO® CITY 
Pirate Shores
LEGO® NINJAGO®World 
Visit 3 candy houses around LEGOLAND® Korea Resort and get your stamp and special treats!
Collect all 3 stamps to get limited edition pin badges! (For children only, while supplies last each day)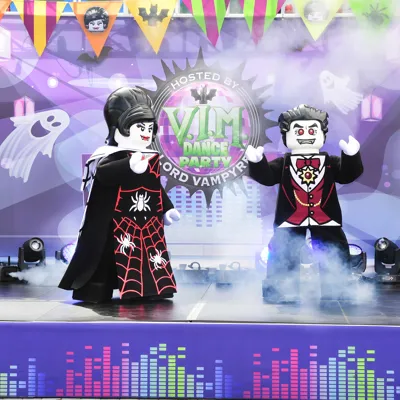 Fun for the Whole Family!
🧟 Lord Vampyre's Very Important Monsters (V.I.M) Dance Party
Dance like a monster at Lord Vampyre's dance party and show off your crazy moves!
📍 Location: LEGO® Castle Monster Stage 
📍 Schedule: 
- Monday, Wednesday, Thursday: 13:30, 16:30 
- Friday, Saturday, Sunday: 13:30, 16:30, 19:30 
*Closed on Tuesdays
---
🦸‍♀️ Today's Monster Star
Dress up and take part in our children's costume contest at LEGO® Castle!
Win free prizes and even Annual Passes!
📍 Location: LEGO® Castle Monster Stage 
📍 Schedule: Every Sat, Sun 14:30

🎭 Registration Location: In front of the event stage at LEGO® Castle Monster Stage
🎭 Registration Hours: Between 12:00 and 14:00 until 10 minutes prior to the contest
(Registration may end early if all 40 teams sign up) 
🎭 How to Participate:
* Dress up as a LEGO® & Monster
* Children below 13 years old, residing in Korea can participate
* Exclude 1st Place winners
🏆 3 Winners will be selected per category
🥇1st Place – Annual Pass (Gold Pass) (1Ticket)
🥈2nd Place – 1 Day Ticket (2Tickets) 
🥉3rd Place - LEGOLAND® Zip-up hoodie
---
🦹‍♀️ Autumn LEGO® Build Contest 
Make your own jack-o-lantern, spider, cobra and other LEGO® brick artworks! Submit your masterpiece to win special prizes!

📍 Location: BRICKTOPIA - Build & Test
📍 Schedule: 10:00-16:00

🎭 How to Participate: Submit one work per person 
🏆 1st place to be announced in Build & Test at 17:00
---
Check out the Brick Or Treat Special LEGO®, Limited Edition Minifigures, Autumn LEGO® sets, pumpkins, skull bricks and lots more – only available during the Autumn season!
* Operation schedule for events are subject to change without notice depending on the situation on the site.
Starring 4D Movie <The Great Monster Chase>
Enjoy this special seasonal 4D movie!Join our small friends on their chase full of laughter and thrills!
SYNOPSIS
It's Halloween at LEGOLAND®! The LEGO® Monsters, Lord Vampyreand Spider lady are hosting an after-show party with the Monster Of Rock performing. Outside, four superfan tweens have scored tickets to the party, but when they arrive – they discover only Monsters are allowed in.
They dress up as Monsters to get past security and when they manage to enter, they see a massive party in full flow. Through a hilarious section of 4D chaos, the tweens costume gets pulled off, and the tweens run into LEGOLAND® and the Monsters give chase – what follows a rip roaring, comedy 4D Chase across LEGOLAND® at Halloween!
📍 Location: 4D Cinema
* Operation schedule for events are subject to change without notice depending on the situation on the site.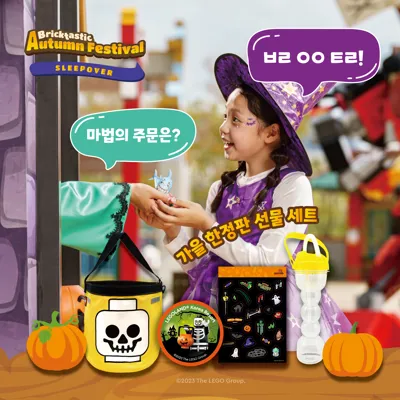 Hotel Bricktastic Autumn Sleepover
Become a Candy Hunter this fall and Embark on an exciting adventure at LEGOLAND® Park and Hotel!  
📌 Period of Sales : Aug 30th(Wed) ~ Nov 19th(Sun)
📌 Period of Stay : Sept 22nd (Fri) ~ Nov 19th (Sun)

* Launch Event!
If you make a reservation by September 8th(Fri) 2023, you can book Bricktastic Autumn Sleepover at the same price as the breakfast package! From September 9th, the difference with the breakfast package is KRW 33,000 for non-members and KRW 29,700 for annual membership holders.
LEGOLAND® Starry Night
Enjoy the Spectacular Night View at LEGOLAND® (4/28~10/29)