Period of Sales : Nov 9th, 2023 ~ Apr 29th, 2024​
Period of Stay : Nov 13th, 2023 ~ Apr 29th, 2024​
---
FREE Breakfast & Dinner Buffet
Included in Dinner Delight Sleepover Package!
---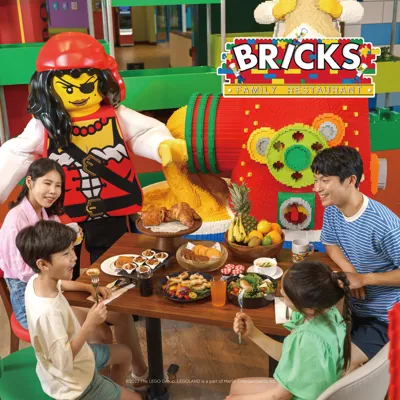 Dinner Delight Sleepover
⭐ LEGO® chefs are busy cooking at LEGOLAND® Hotel Bricks Family Restaurant!
Enjoy a variety of dinner menus, different from breakfast,
as well as kids' menu where children can choose their favorite dishes!
Indulge in our delicious offerings including braised Korean BBQ ribs loved by the whole family, grilled salmon with cream sauce, meatball pasta, kids' favorite dessert section and lots more! 
There is also a LEGO® brick play area for children
to play until other family members enjoy the meal.
Treat your children to special meals and play experience
at LEGOLAND® Hotel Bricks Family Restaurant! 
That's not all. If you spend a night in a fully LEGO themed room,
even the breakfast buffet the next day is free for all registered room guests!
During the buffet meal, look out for LEGO® characters' surprise appearances! 
(*Annual pass holders can get an additional 15% discount)
---
📌 Sales Period : 2023.11.9(Thu) ~ 2024.4.29(Mon) 
📌 Stay Period : 2023.11.13(Mon) ~ 2024.4.29(Mon) 
📢 Save more when staying on Tuesdays and Wednesdays!
(Cheaper rates available on a first-come first-reserved basis) 
🍽 Bricks Family Restaurant Buffet Hours: 
🥐 Breakfast : 7:00 ~ 10:00(09:30 Last entry)
🧆 Dinner : 18:00 ~ 21:00(20:00 Last entry)
- Meals are included during the hotel stay period.
Dinner buffet is provided on the check in day and breakfast is included on the day after.
- Guests must confirm the number of dining guests upon check-in. The number of dining guests cannot be added after check-in.(e.g when checking in 2 adults and 2 children for the room stay, breakfast and dinner buffet will be available for only 2 adults and 2 children. Additional guests can pay separately at Bricks Family Restaurant and join the buffet. 
- At the entrance of Bricks Family Restaurant, guests will be asked to present their annual passes with photos (and ID) for verification. 
- Promotion Period and event schedule is subject to change without prior notice.
---
|Basic Benefits|
⭐ Overnight stay at a fully LEGO® themed room🍽️ Breakfast for all registered room guests
🎁 Welcome Treasure Hunt with a surprise gift
🛏️ King bed in the adult sleeping area
🛏️ Kids' own sleeping area with bunk bed, pull out trundle bed
💡 LEGO bricks to build with during your stay
🖥️ High-definition flat panel TV in each kid's and adult's sleeping area
❄️ Air conditioning / Mini-fridge /Wi-Fi access/Hairdryer/Complimentary toiletries/In-room safe
🚩 Free parking area for Hotel guests
🚩 Valet Service for Hotel guests(First Come First Use, KRW 20,000 per car)
✨ All themed rooms are also available as accessible rooms. 
✨ Book for an "Accessible" room on website if you wish to use an accessible rooms.
|Exclusive Activities for Hotel Guests| 
🧡 'LEGO® Creative Workshop', offers interactive sessions using LEGO® Education series(sets only for institutions, not for sale) for students of all primary ages.(2F, reservations required)
💛 'Adventure Play' – a huge playground for kids, with LEGO® hands on play areas
💚 'Kids Ground' on the 3rd floor offers various seasonal interactive programs for kids(reservations required)
💙 Daily entertainment, seasonal shows and entertainments offered for the whole family all year round
COMING SOON
Happy New Year!